June 2021
Safety Measures We Are Taking In Our Office
To help prevent the transmission of all respiratory infections, including COVID-19, we adhere to standardized infection control measures, such as performing hand hygiene, providing tissues and no-touch receptacles to throw away used tissues, and offering facemasks to patients who are coughing. We follow routine cleaning and disinfection strategies, using cleaners and water to pre-clean surfaces prior to applying an EPA-registered, hospital-grade disinfectant, as well as appropriate sterilization of all tools and equipment. We also use new facemasks and gloves for each patient per guidelines set by the ADA, FDA, and CDC.
Disinfectant is hospital grade Cavicide and all non disposable instruments are cleaned then fully sterilized with an Autoclave
All masks are rated to filter a minimum of 98% of as small as 0.1 micron (virus size) particles
We have Blue Air Commercial Grade Air Cleaners (#1 in Consumer Reports) throughout the office and in each operatory. They are also rated to filter viruses.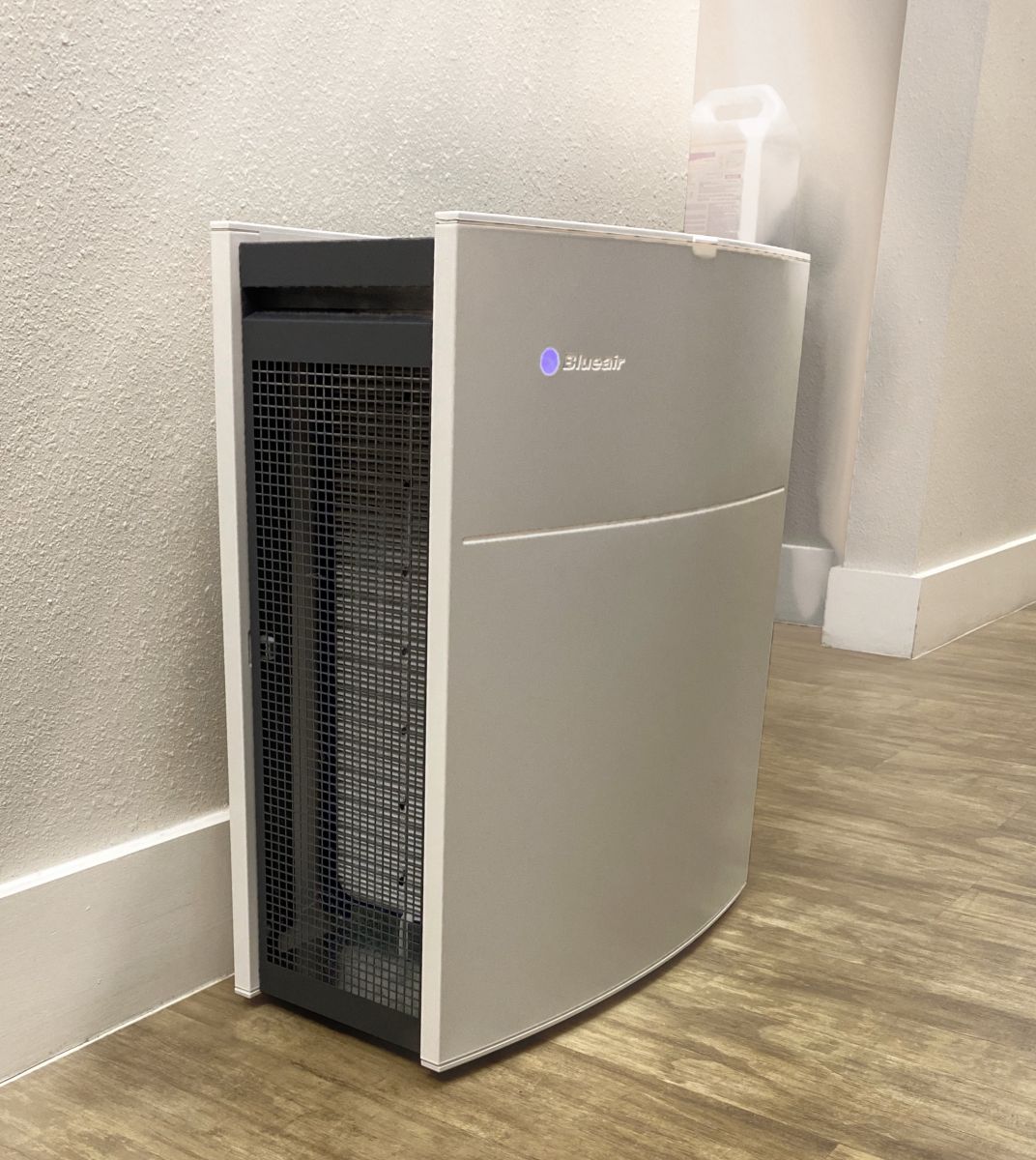 While our office already adheres to these standard precautions, there are several common sense recommendations we are implementing to prevent the spread of COVID-19.
Screening patients for signs or symptoms of infection when we update their medical histories.
Making sure our masks, gloves, and eye protection are appropriate for the procedures performed.
Cleaning and disinfecting public areas frequently, including door handles, chairs, and bathrooms.
If you have an appointment scheduled within the next few weeks, please contact our office if you experience any of the following:
Fever
Cough
Shortness of breath
Travel within the past 14 days to affected geographical regions
We will discuss your health status, the dental treatment you require, and whether or not visiting our office will be safe for you, our other patients, and our staff.
When you visit our office, we ask that you arrive on time for your appointment, rather than too early. This will minimize the amount of time you spend in our waiting room or reception area. We will ask that you wear a facemask.
Below are a list of Safety Measures now in place for our patients:
1. Training and Educating Our Team
One of the most important things we are doing now is retraining and educating our staff
Our team has had refresher training in proper handwashing technique. It is the most important thing we can do to prevent spread of COVID19 but there is often poor compliance. So we spent a lot of time ensuring that our team does it well and often, especially before and after each patient encounter.

We have practiced the appropriate use of personal protective equipment (PPE) prior to caring for each patient.

We encourage our team members to stay home if they are not feeling well.

We take our temperatures beginning each day and immediately send home someone with an elevated temp above 100.1F
We have created a checklist of recommendations for our team to follow so they arrive to work healthy and go home to their families without worry (see Checklist of Recommendations for Our Team)
2. Recommendations for Our Team​
​Before coming to work
Take temperature. Do not come to work if you or a household member are experiencing symptoms of cough, fever, sore throat, etc
Remove watch and rings and leave at home
Hair tied up, nails short
Avoid extra accessories
Place phone in ziplock bag that you will discard at the end of each day
If bringing lunch place in a disposable wrapping
Bring work clothes in a washable bag (i.e. pillow case)
At work
Change into scrubs and work shoes (preferably plastic and wipeable) as soon as you arrive
Use PPE as appropriate
Leave all clutter (i.e. pens, phones, etc) outside operatories
We discourage our team from using other team members' phones, desks, offices, and other equipment as much as possible
Clean phone handset after use
After work
Wash hands and arms with soap
Remove scrubs and place in washable bag or leave at work
Wash hands and put clean clothes on
Sanitize phone, glasses, etc
Wash hands again
At home
Do not touch anything
Remove shoes and clothes
Wash clothes/scrubs in washing machine with hot water and detergent
Shower immediately with soap and water before touching anything
3. Patient Interviews and Social Distancing
Before patient arrives every effort is made to
Filter patients during the phone call when scheduling or confirming appointments using the established and recommended screening checklists and scripts
Prepare scripts and questions to recognize potential carriers
Reschedule patients who show any signs of a cough or fever or who describe having any concerning warning signs
Instruct patients to wear facemasks. Due to shortages we do not have extras right now to hand out
Instruct patients to call ahead and reschedule their appointment if they develop signs of respiratory illness on the day they are supposed to be seen.
To promote social distancing
Prioritize high risk patients (immunocomprimised, over 60, etc) with early morning appointments so less contact with others.
Keeping our schedule spread out to reduce people in waiting area
Patient escorts should wait in their vehicles.
Utilizing a "virtual" waiting area by having patients opt to wait in their vehicles and be notified by cellphone when we are ready to see them.
Safety measures taken upon arrival
Limit points of entry to the clinic.
Leave office doors open to avoid door handles
Posting signs of the COVID 19 risk and advising them not to enter the facility when ill.
Tissues made accessible immediately upon arrival to cover nose and mouth when needed.
Provide hand sanitizer
4. Measures upon arrival

Patients are
Immediately escorted to a hand washing station
Escorted into an examination room as quickly as possible
Asked to prerinse with antibiotic mouthrinse chairside and spit back into the same cup that will be immediately disposed of
Asked about the presence of any symptoms and travel history or possible contact with COVID 19 patients.
Assessed for respiratory symptoms and fever (non contact forehead thermometer)
As testing for the virus becomes more readily available we will be integrating this added benefit into our practice
5. Measures Taken Upon Patient Entry to the Clinic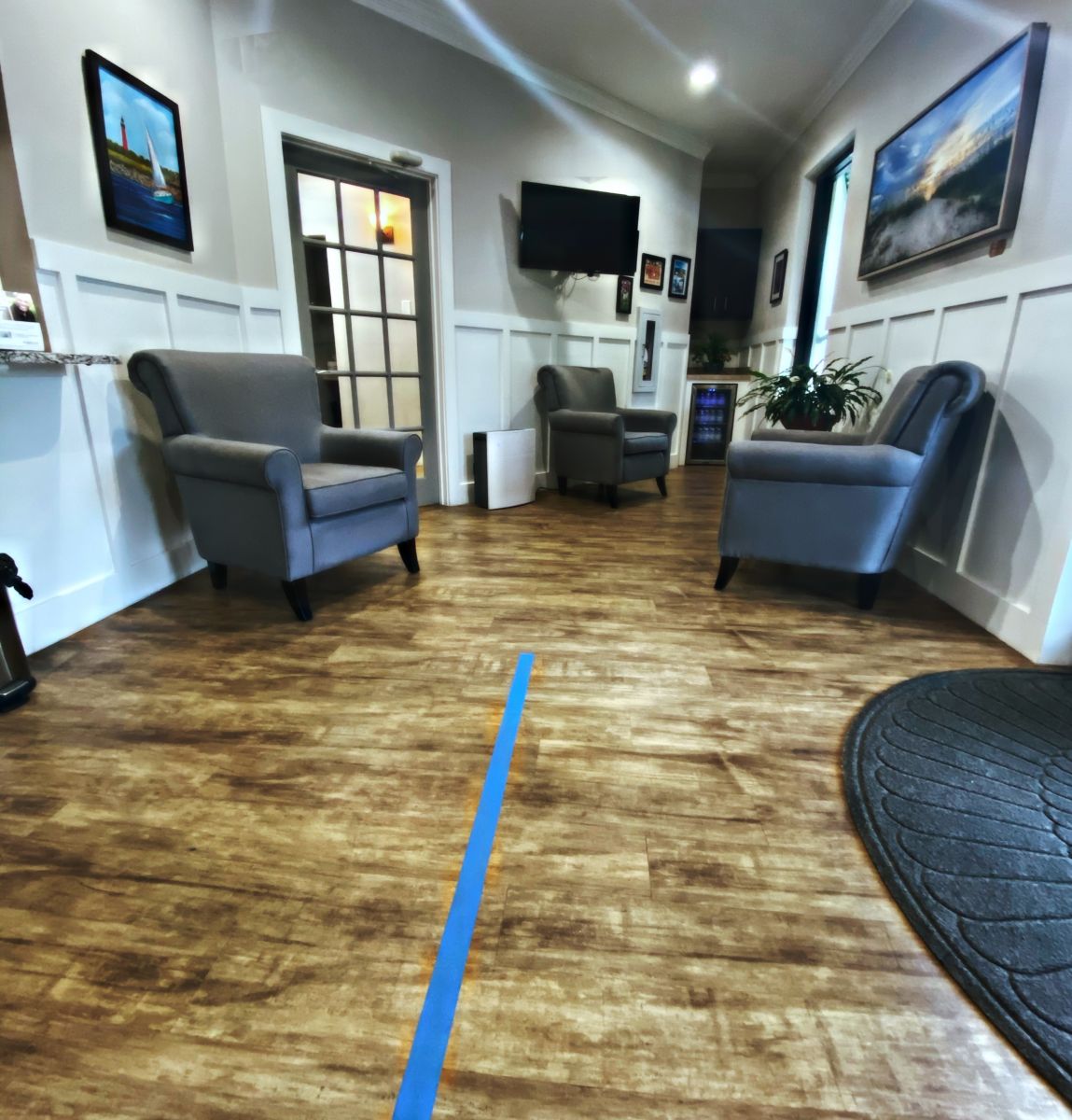 If an examination room is not available ensure social distancing in the waiting area by keeping seats a minimum of six feet apart
Remove all clutter and anything not easily disinfected from waiting area
Frequently wiping down the waiting area, bathrooms, door handles, tables, light switches, computers, etc.
6. Waiting Area and Front Desk Safety Measures
All front desk personnel are equipped with masks. I guarantee they are smiling under them!
Tissues and hand sanitizer are available there
If needed only new pens will be given to you (you can keep them!)
​7. Protocols of the Clinical Team
We have always adhered to rigorous standard and transmission-based precautions in the operatory. We now are using even greater attention to detail and ensure that proper procedures are followed consistently.
Hand Hygiene is performed by our staff
Before and after all patient contact, contact with potentially infectious material, and before and after putting on PPE
Washing hands with soap and water for at least 20 seconds
Personal Protective Equipment
Wear masks, gloves, face shields, masks (including N95 and ASTM Level II and III surgical masks)
Masks are one time use
Put on eye protection including faceshield upon entry to the patient room or care area
Remove eye protection before leaving the operatory
Reusables are cleaned and disinfected
Gloves
Put on clean new gloves upon entry into the operatory
Change gloves if they become compromised
Upon removal, immediately perform hand hygiene
Shoes
Team will wear leather or plastic shoes that are wipeable with disinfectant
8. Patients in the Operatory
Health care personnel follow our basic infection control guidelines between patients. That includes hand hygiene, disinfecting chairs, lights, trays, and all shared equipment in the operatories
Limit transport of the patient outside of the operatory
If another team member must enter the operatory they must adhere to the PPE guidlines above
After patient has left the operatory other team members should not enter the operatory until it has been disinfected
Special precautions are being made when performing Aerosol Generating Procedures like Hygiene. We are using special suction apparatus called PureVac to evacuate exponetially more aerosol than our typical suction does.
We also have strategically located air cleaning devices in all of the operatories to filter any excess aerosols.
9. Protocols After Treatment
All disposables thrown away and non disposables cleaned and disinfected.
Routine cleaning and disinfecting procedures using cleaners and water to pre-clean surfaces prior to applying EPA registered hospital grade disinfectant to frequently touched surfaces or objects for approriate contact times, are approriate for Sars - CoV - 2 in healthcare settings, including those patient - care areas in which aerosols are generated.
Safety Measures After the Visit
Encourage payments by E-Transfer, PayPal, or Credit Card or over the phone to reduce patient contacts and encourage social distancing with the front desk
Review of treatment plans, estimates, and insurance forms can be carried out via phone callor video conferenceing and sent via email
Patients wash hands when leaving
We are confident that these guidelines will create a safer environment for our patients and team members. We hope you feel secure in the knowledge that we are doing everything in our power to provide safe clinical conditions in order to protect our patients, team, and families!
If you would like more information about our office's dedication to your health and safety, please give us a call. For more information about what you can do to prevent the spread of COVID-19, please visit the World Health Organization website.